A few months ago, I heard a rumour that two pretty well-known characters from the local specialty coffee world in Amsterdam was looking to open a new place. And that they were going to serve coffee from our friends at Rush Rush in Antwerp no less. I always get giddy when I hear of a cool new multi-roaster concept opening its doors somewhere because most established places in Amsterdam only serve their own roasted coffee. There are simply too few multi-roaster cafés in this city!
Via via, I then found out where this new place was going to open and ever since I got this piece of intel, I had been keeping a close eye on that particuar corner shop in Amsterdam Oud West, waiting for it to open its doors and reveal itself. This week, it finally happened.
Earlier today, escaping the nasty summer drizzle, I got a chance to pop into Skina, the long-awaited new shop owned by Michael Danner and Lizzy Hassell. You might know Mike and Lizzy from their previous stints at the likes of Toki, Loof and Quartier Putain and it might thus not come as a huge surprise that only a few days into being open, Skina was already packed with people. After years of discussing their ideal design and set up, Michael and Lizzy were approached by their close friends Kassimou, Medi and Nadir (Rue la Bastille) to collaborate and as a group of five, and they were able to realize that dream: a space for community.
Skina, the Papamiento word for corner, is a homage to Lizzy's Carribbean heritage. While admiring the huge bar with a beautiful top by The Good Plastic Company, Michael told me that they had picked the name long before they found this space and lo and behold, it fits. Skina is a lovely corner café.
The main space as you enter has huge ceilings that will soon sport a custom made lamp and a large piece by Brian Elstak on the wall. The floor is covered in funky linoleum and there are plants dotted around the space. As you descend the short flight of stairs, you approach a long bar that offers plenty of seating along its left half where Michael and Lizzy hand brew filter coffee and tea, and the two group Spirit espresso machine by Kees van der Westen and the pastry display on the right.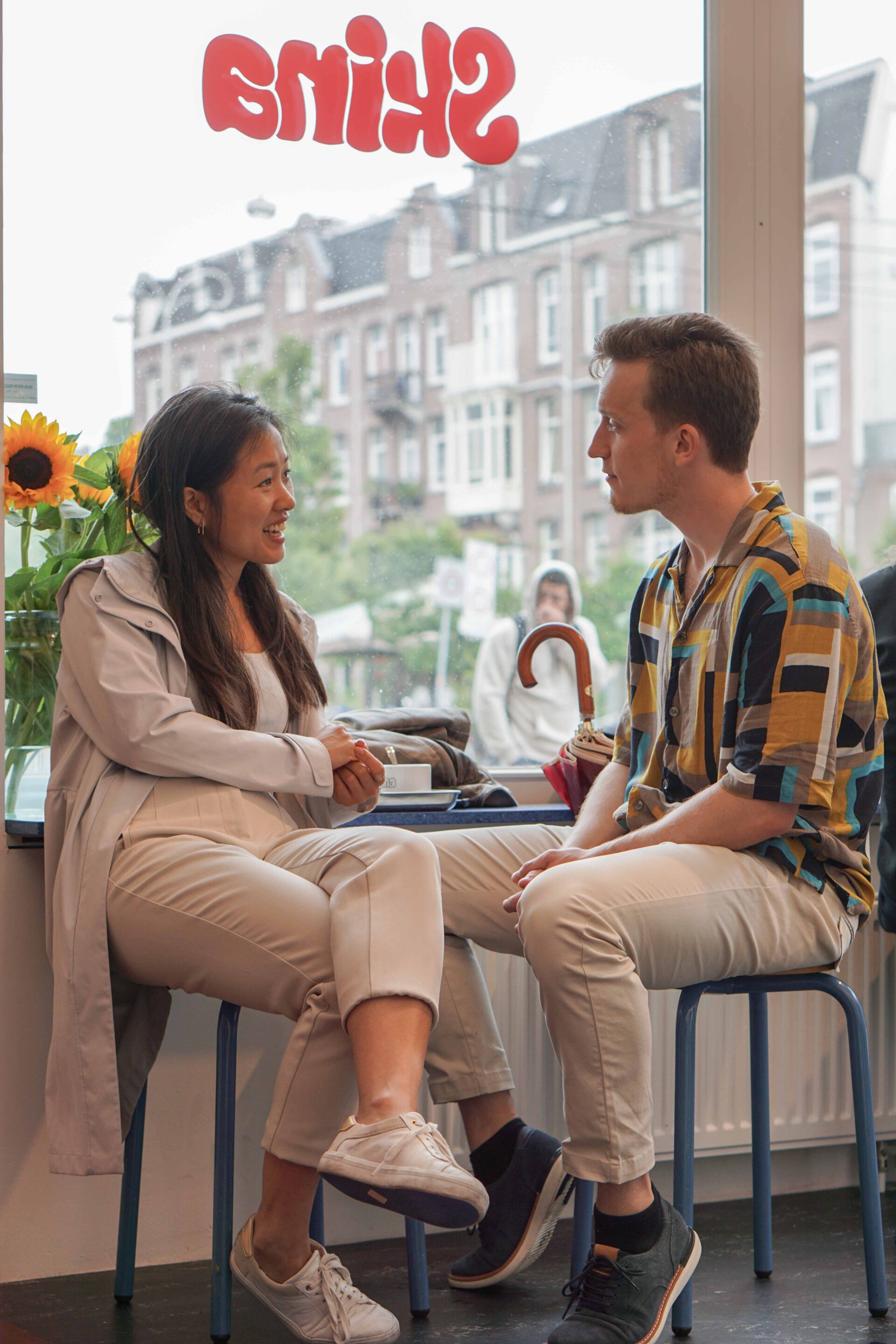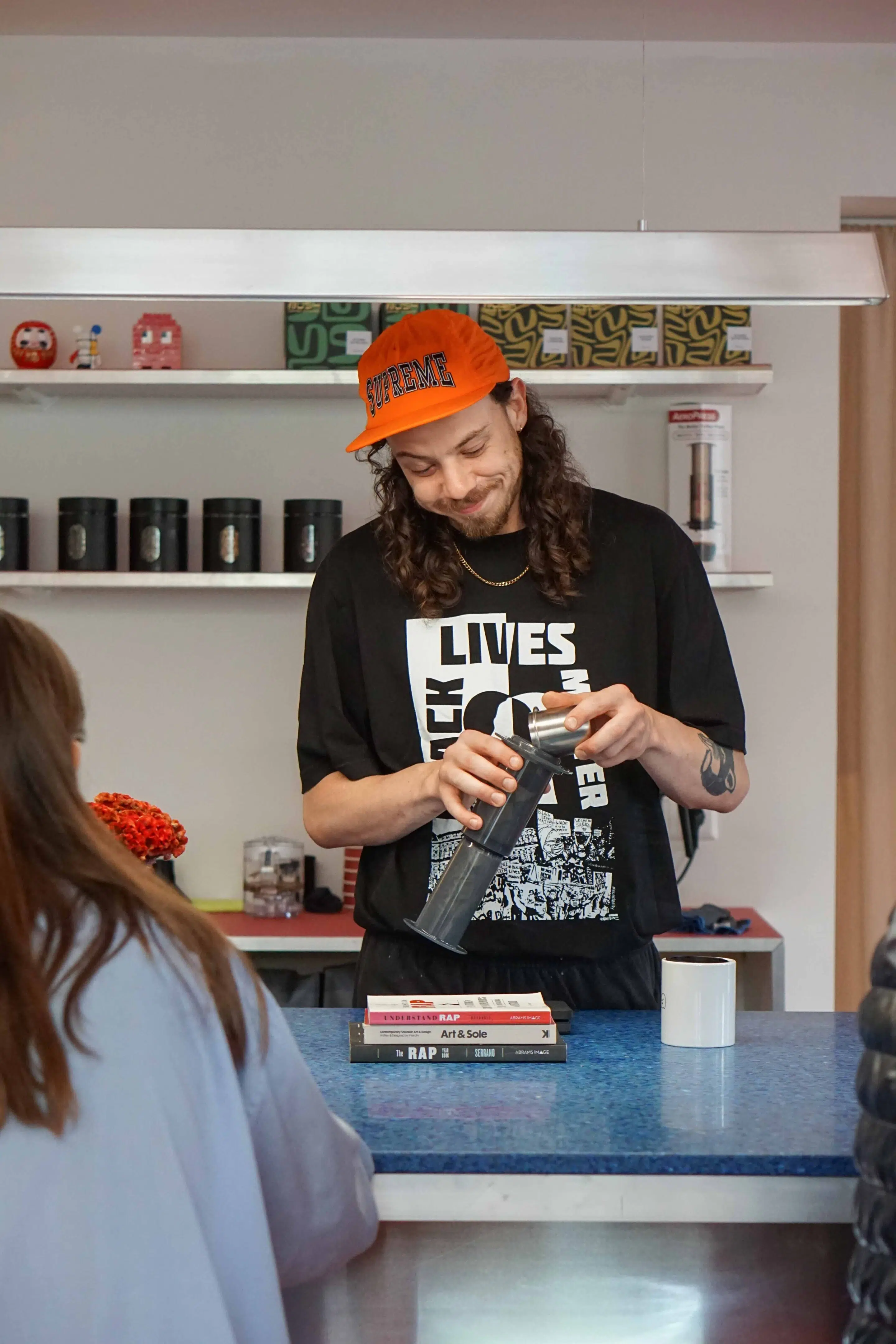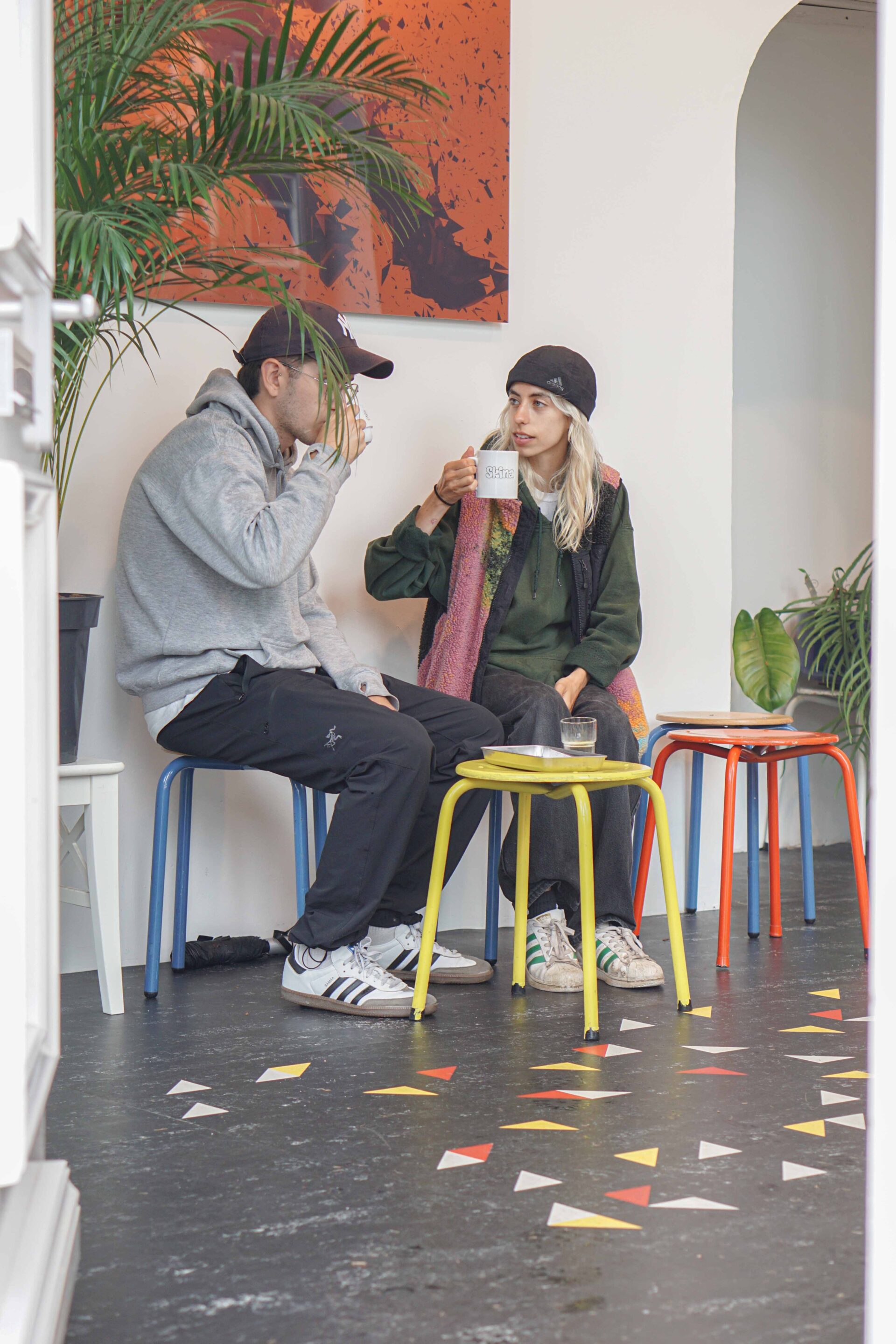 There was a wonderful liveliness to the place that spoke of the sense of novelty that customers felt for being amongst the first to visit the new kid on the block but also, there was a sense of joy that everything had gone according to Michael and Lizzy's wishes. "I could never have dreamed of this," Lizzy admitted while surveying the buzzing café.
Skina joins a few other established places in Oud West including their immediate neighbours across the road, Ikaria, as well as Uncommon and Monks a bit further away. "We definitely don't see everyone else as competition," Michael admitted. "Everyone does something very unique and I think we can all complement each other in this part of town."
Other than coffee, there are some tasty pastries from Loof and Grammes and freshly made sandwiches that come, for example, with a chicken salad made according to Lizzy's dad's recipe, and a vegan version with pumpkin.
I mentioned to Michael that my spies had initially told me he wanted to do something with coffee and wine but that Skina was quite a different concept. "Indeed, we did want to do that," he said. "But our partners ended up changing their minds and ultimately, it didn't really fit with our vision for this place. Maybe one day. For now, we really want to focus on art and create a neighbourhood meeting place."
Don't get me wrong. I might be biased that a great new shop has opened in my neighbourhood but there is always room for one more, especially when they're doing something a bit different. I, for one, am glad that Skina is finally here!