Antwerp is a city that is really close to Amsterdam (2h by car or even less by train) and that is a real delight to visit when the sun is out and yet, for some strange reason, I've been to other more faraway places more regularly than to Belgium's second city. After this weekend just gone, I am going to spend more time there because Antwerp really has something absolutely magical about it.
Yesterday, my boyfriend Michal and I decided to make an expressedly coffee-inspired stop over in the Flemish capital on our way back from the gorgeous Ardennes where we had just spent a long weekend. Though much of the city is closed on Sundays or only opens after 1pm, we spent much of our time just wandering around the streets and soaking up the atmosphere. The sun was shining, people were smiling and the pace of life seemed to be a bit slower than even in Amsterdam.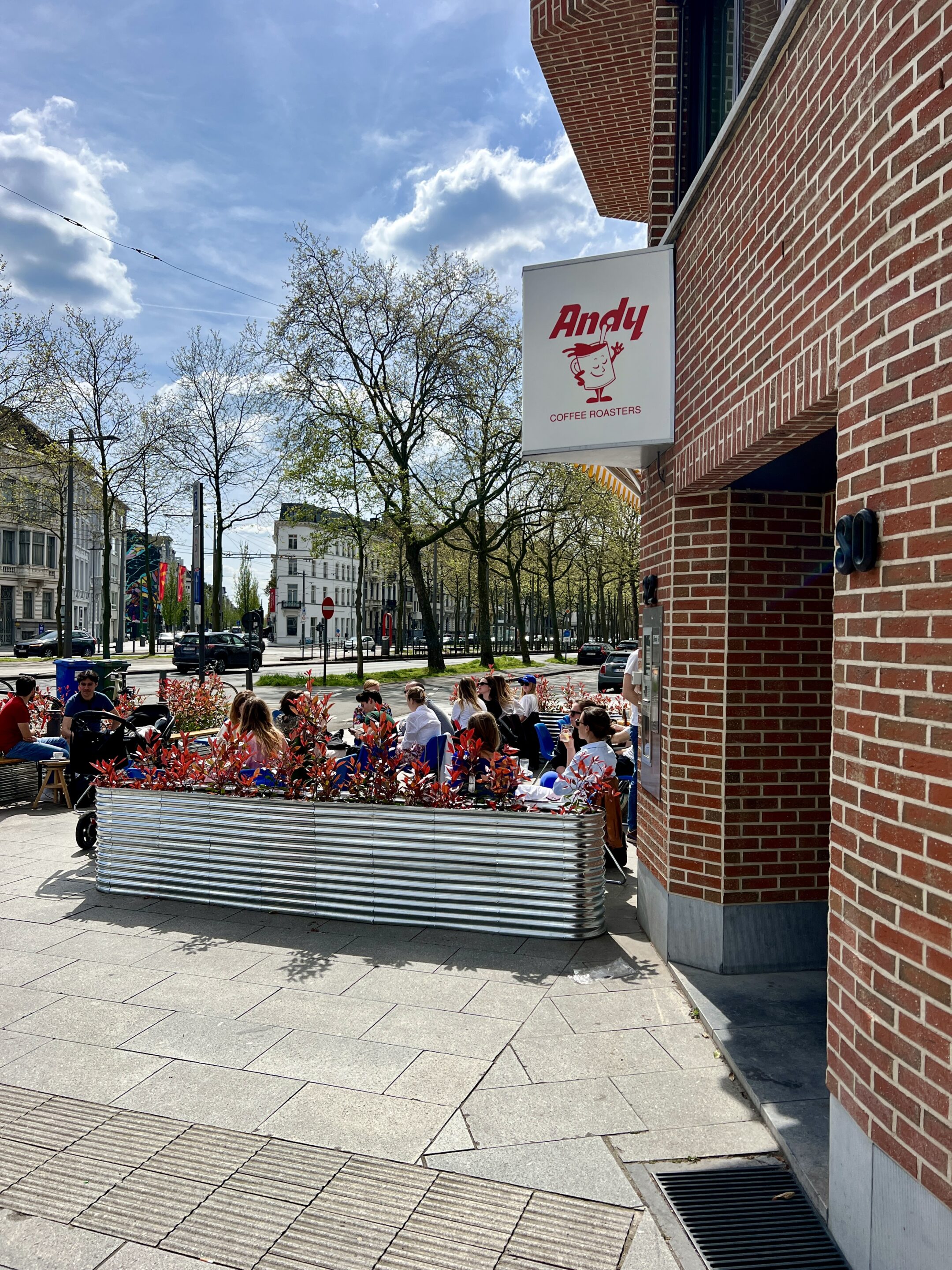 As we made our way back to the car after wolfing down a bowl of ramen each, we consciously stumbled across Andy Roasters, the café from one of Antwerp's rising specialty coffee roasters. Founded by Dave Haesen and Kjell Maes, Andy Roasters has a funky retro modern interior with a big coffee bar, a vinly shop, a DJ deck at the back and a huge terrace out front.
We managed to nab a table where Michal and I enjoyed some people watching as I sipped on a mug of their fruty Kenyan peaberry coffee from Kuture. There was an air of Back to the Future meets Scandinavian minimalism about the place and judging by the busyness on the terrace, Andy Roasters has become a local favourite.
I have to admit that I was not really aware of the brand until Dave chased me down during the Amsterdam Coffee Festival, gave me a bunch of coffees to try and said: "I hope you can find a space for us in one of your coffee boxes soon." More on this soon. Dave is not a newbie in the coffee scene as it turns out. He also owns a coffee shop called Butchers Coffee only about 400m walking distance away. Yet, with Andy he and Kjell want to take things a step further.
Naturally, you might ask youself 'and who is Andy then'? Fair question. Andy, according to Andy Roasters, is more of a philosophy or guiding principle that motivates Dave and co while also representing the myriad producers that they work with. What I also like about their mission is that they clearly state that they work with expert coffee traders rather than making up some stuff about 'direct trading', a term that has been wrongly employed by many roasters.
There were a few additional things that I noted as I surveyed the café, including the extremely tidy bar area, the rich choice in batch brews (3 in total), the well-placed merch and coffee bags that could be found all around the shop, and the wonderful staff. Everyone was so friendly and welcoming that it really stood out. Andy, you're welcome here!