On a fine Sunday morning a few weeks ago, my parents and I left our hotel in Valencia after having breakfast and went for a long walk. We passed through Jardi del Turia, a long stretch of green that hugs Valencia's city center and provides a welcome natural oasis in an otherwise pretty built up city.
After a certain point, my step father raised the question of where we could get some coffee and given that we had already walked as far as Russafa, the city's alternative and lively neighbhourhood, I suggested popping into Bluebell Coffee Roasters where I was planning ot meet its co-founder and co-owner Yolanda Valero later that morning.
Word had certainly gotten around that Bluebell doesn't just serve excellent coffee but that it is also one of the few places where you can have a delicious Sunday brunch when most other places in the area are shut. We managed to grab the only available table outside and sure enough, a relatively long queue began forming in the following 30 minutes.
Truth be told, this was not my first time visiting Bluebell on this trip, having swung by unannounced two days prior and meeting one of our longterm subscribers, Kumi, who works there as the head barista and roaster. It's always fun to meet customers and to come face to face with people who you normally only know from their recurring subscription orders.
My parents were delighted with the cortado and cappucchino, and when it started drizzling ever so lightly, they jumped in a cab back to the hotel while I met with Yolanda who ventured into town purely to meet me. After venturing inside, I ordered a cup of batch brew while Yolanda told me a bit about how she and her sister Marian started Bluebell almost eight years ago when specialty coffee was practically unheard of in Valencia.
One of the most interesting aspects of this local institution is that it is female owned and mostly female run. All of the baristas and waitresses that day were women and Yolanda explained that she puts an emphasis on largely sourcing coffee from female producers.
Bluebell was originally inspired by Marian's time in Montana, United States, where she lived for a few years and first came into contact with specialty coffee. Both Yolanda and her are social workers by trade and while in Africa, Yolanda even spent some time on a coffee farm way before she started a business in this sector.
The name comes from a wildflower that calls California its home and incidentally, that is also where Marian is currently setting up an American branch of the company. Though this was not originally planned, during the pandemic, Marian spent a few months down in Colombia visiting a coffee farm that Bluebell buys coffee from and while visiting friends in the US later, Marian met a guy and decided to settle in a small town near Lake Tahoe.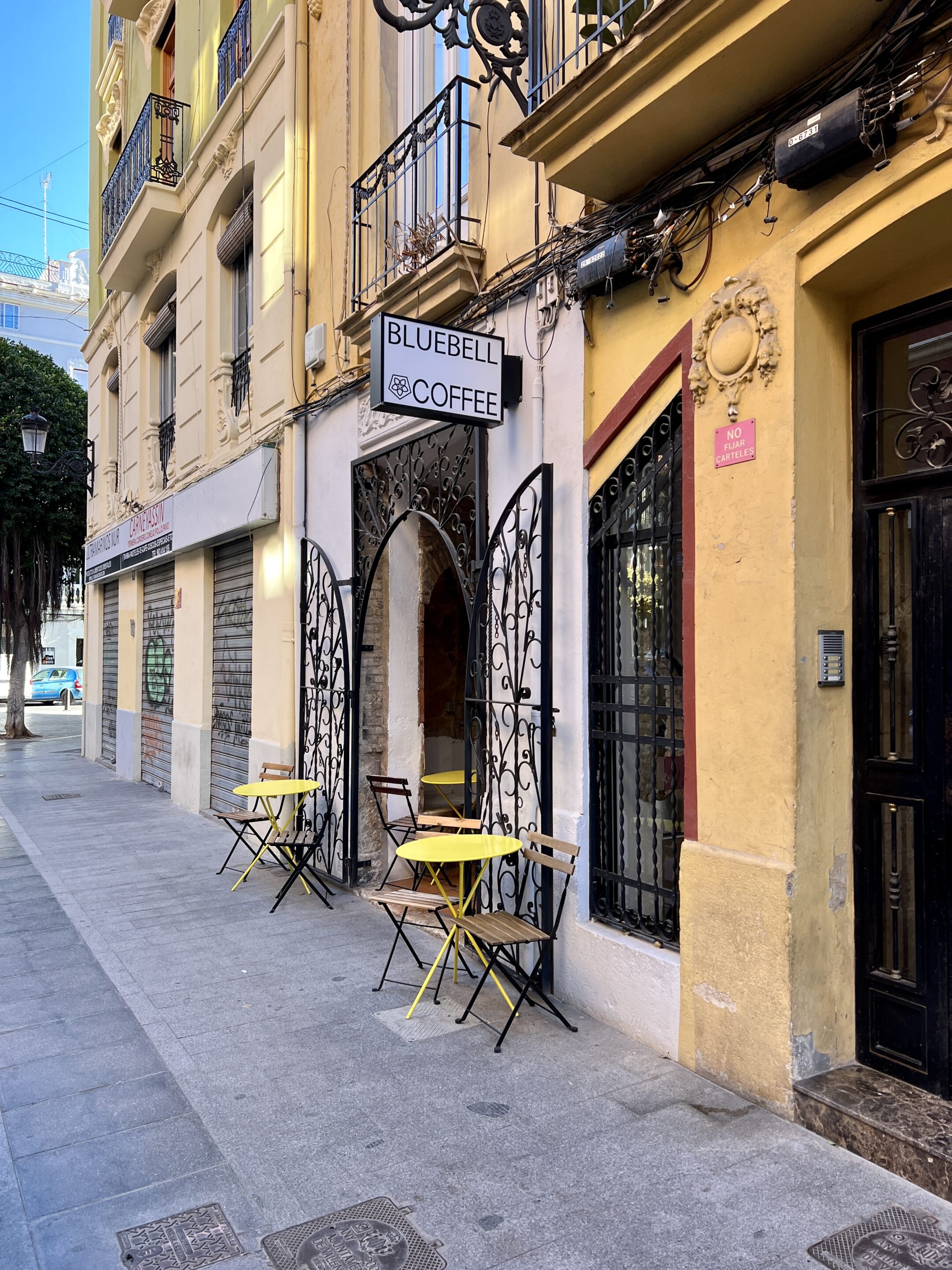 Back in Valencia though, Bluebell made a name for itself as the city's first original specialty coffee roaster and these days, it supplies many local businesses and ones further north in Barcelona. Before Marian headed to the US, she was the headroaster and she then handed the rains over to Kumi, who now roasts in tandem with Yolanda at the Bluebell production space about 15kg outside of the city.
As I sat there, I watched various mouthwatering dishes pass me by, including bao buns, avocado on toast and more. Judging by the crowd that morning, Bluebell is a firm favourite amongst local expats and tourists alike who come from all over town to sip on perfectly prepared coffees and tuck into tasty plates and pastries.
My time at Bluebell was absolutely wonderful and I highly recommend anyone visiting Valencia to make this place a destination on their agenda.