I often get very enthusiastic messages from coffee roasters who are interested in working with The Coffeevine to share one of their coffees with the world. While I am always open to exploring the possibilities of a future collaboration, it's not often that I get to personally meet the roaster in question shortly after their initial outreach.
But this was exactly what happened with the guys of Sacred Mill in Warsaw. During a recent trip to the Polish capital with my boyfriend Michal who is currently finishing a Masters in Psychology at a local university there, I decided to make a beeline to Sacred Mill's brand spanking new roasting space in the Praga district right after Michal and I had a quick and tasty lunch at a local café.
Grishma Rastogi and Rafael Bava, the Indian couple behind the brand were sitting inside the cool space as I approached and instantly recognized me. The vibe I got was incredibly kind and friendly and it set the tone for the rest of my time at the roastery-cum-café that combines cool minimalism with splashes of colour to create a tasteful and modern interior.
The production area is separated from the café by a large glass wall that snakes its way around the middle and offers onlookers a perfect view of Rafael at work on his Giesen roaster. Grishma usually sits in the office next door where she takes care of operations and marketing.
What struck me the most about them was their curious and truly astonishing journey. Though both are Indian, Grishna was born and raised in Kenya and met Rafael when they were living in Glasgow. Neither of them had a coffee background before they discovered that this would one day be their future together but Grishma's Kenyan background helped them get into green coffee trading.
Eventually, they ended up moving to Poland, which struck me as curious since Polish is notoriously difficult to learn and Poland is not exactly known as a paradise for expats of colour. Though they never encountered blatant racism, Rafael did share that while living in Gdansk for a while, older ladies would come up to him and touch his skin expecting the brown colour to rub off. In hindsight, they laugh about it but getting used to Polish culture was not easy. Having said that, they also said that Poland is a great place for starting a business for non-EU nationals. Who knew?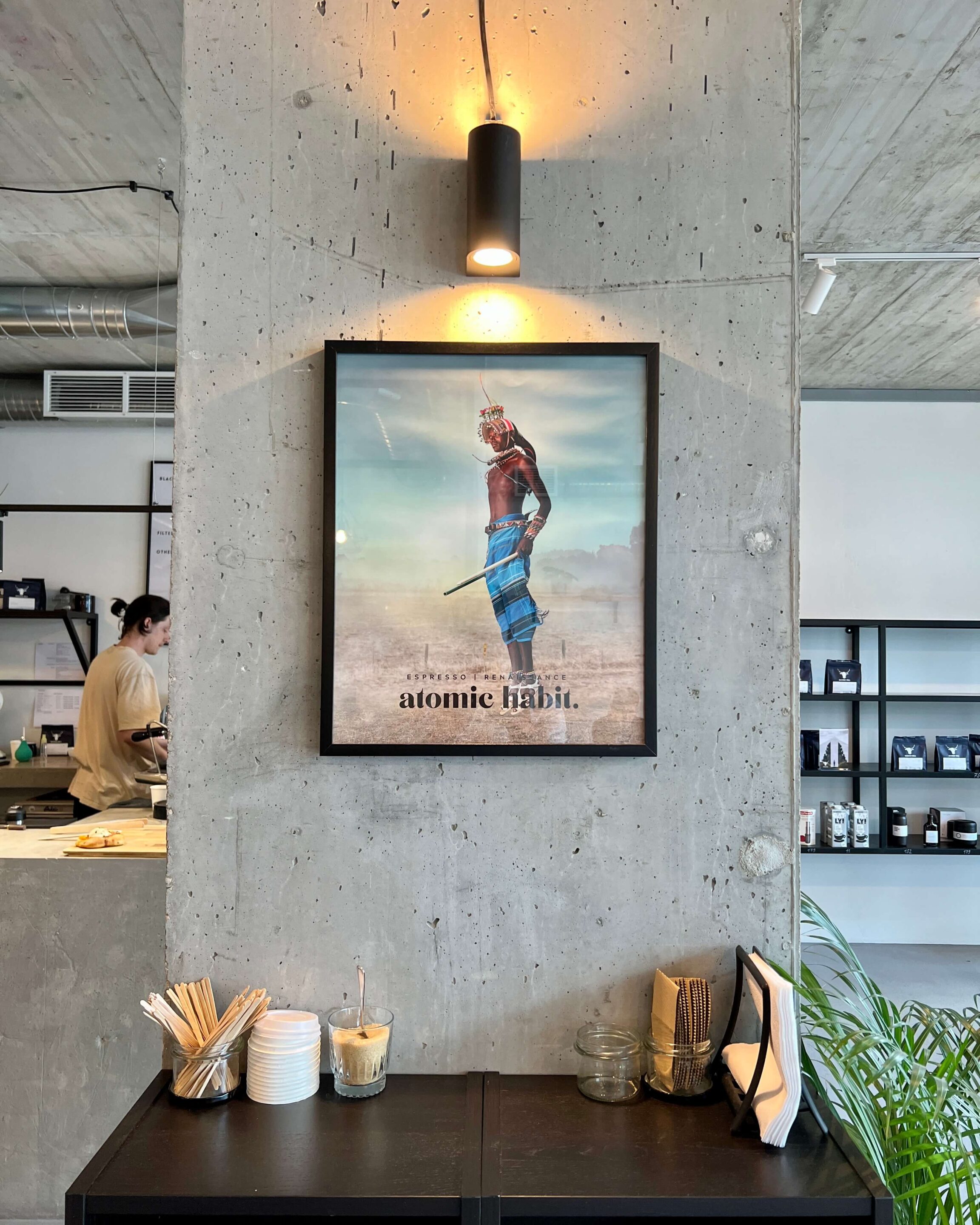 When they attended the Warsaw Coffee Festival one year, they met with Krzysztof Barabosz of Hard Beans, a local specialty coffee roaster who roasted coffee for them before Rafael had acquired the skills to do so on his own. He gained most of his skills during a tough period of working at Auden Coffee Roasters, a Norwegian owned roastery based in the city of Bydgoszcz.
Though not allowed to touch the roasting machine for the first year, Rafael eventually moved up in the ranks and roasted coffee for Audun Sørbotten for two years. Then, just before the pandemic started, Rafael and Grishma opened the doors to their first little café and immediately faced their first major crisis as coffee shop owners. While they emerged relatively unscathed, this episode was followed by another ill-fated attempt to take Sacred Mill to Madrid, which got stopped in its tracks due to some major changes to Madrid's licencing laws introduced after the pandemic.
What became clear to them after all this was that they would be better off honing in on their skills in Warsaw and taking their own roasting to new levels under their own brand. Thus, on February 26th, the Sacred Mill roastery opened. The space is located on a quiet side street in the fast-changing Praga district that is, in parts, still very run down but quickly becoming the hippest place in the city. There are museums, great restaurants, excellent cafés and lots of new residential developments that have joined the more industrial core of the district and Sacred Mill also caters to the growing number of offices in the area. In fact, Michal's university is just around the corner too.
As we sat there sipping on some coffee, Grishma and Rafael told me that they would love for Sacred Mill to turn into a lifestyle brand like Onyx, the iconic American roaster, one day. "We really admire what they achieved," they said. Indeed, these days, specialty coffee is so much more than just coffee and who's to say that Sacred Mill cannot become the Polish counterpart to Onyx?
Their approach to coffee can be described as 'looking for brightness' and their selection of coffees includes various origins, processing methods and price levels. One thing that I would suggest, however, is to find a better fresh milk supplier. I know there are people out there who say long life milk is better than fresh milk because you don't taste as much of the cow but I'm not a fan. If milk-based drinks are not your thing, you can also easily opt for delicious cold or hot filter coffee or a refreshing espresso tonic. In Sacred Mill, Praga has gained a great new specialty coffee place!