The other day, I read an article in The Telegraph that proclaimed 'Forget Barcelona, The Hague is Europe's best beach city. I'm not gonna lie, I had to take a deep breath and marinate over that for a minute. Don't get me wrong, The Hague has charme and is actually really quaint and beautiful but to state that its beach is better than Barcelona's is a wild exaggeration. Having said that, on a h0t summer day, Dutch beaches have their use and if you ignore the brackish colour of the sea, the water is really refreshing.
Scheveningen, The Hague's beach front is popular with my countryfolk, i.e. Germans, and known for its iconic Kurhaus Hotel and pier (more of an eyesore if you ask me) and to my surprise, it's also home to some great specialty coffee bars. The other day, I finally ventured out there for the first time in years and stopped by to see my old friend Vinnie Zwaan who runs Tigershark Coffee.
I hadn't announced myself prior to my visit but to my delight, Vinnie was there and immediately recognized me. We hadn't seen each other in many years. After hugs and kisses were exchanged, Vinnie gave me a tour of the friendly and vibrant space he opened in 2018 after some stints working at different cafés in Amsterdam, including briefly working at my own short-lived filter coffee bar on Leidseplein.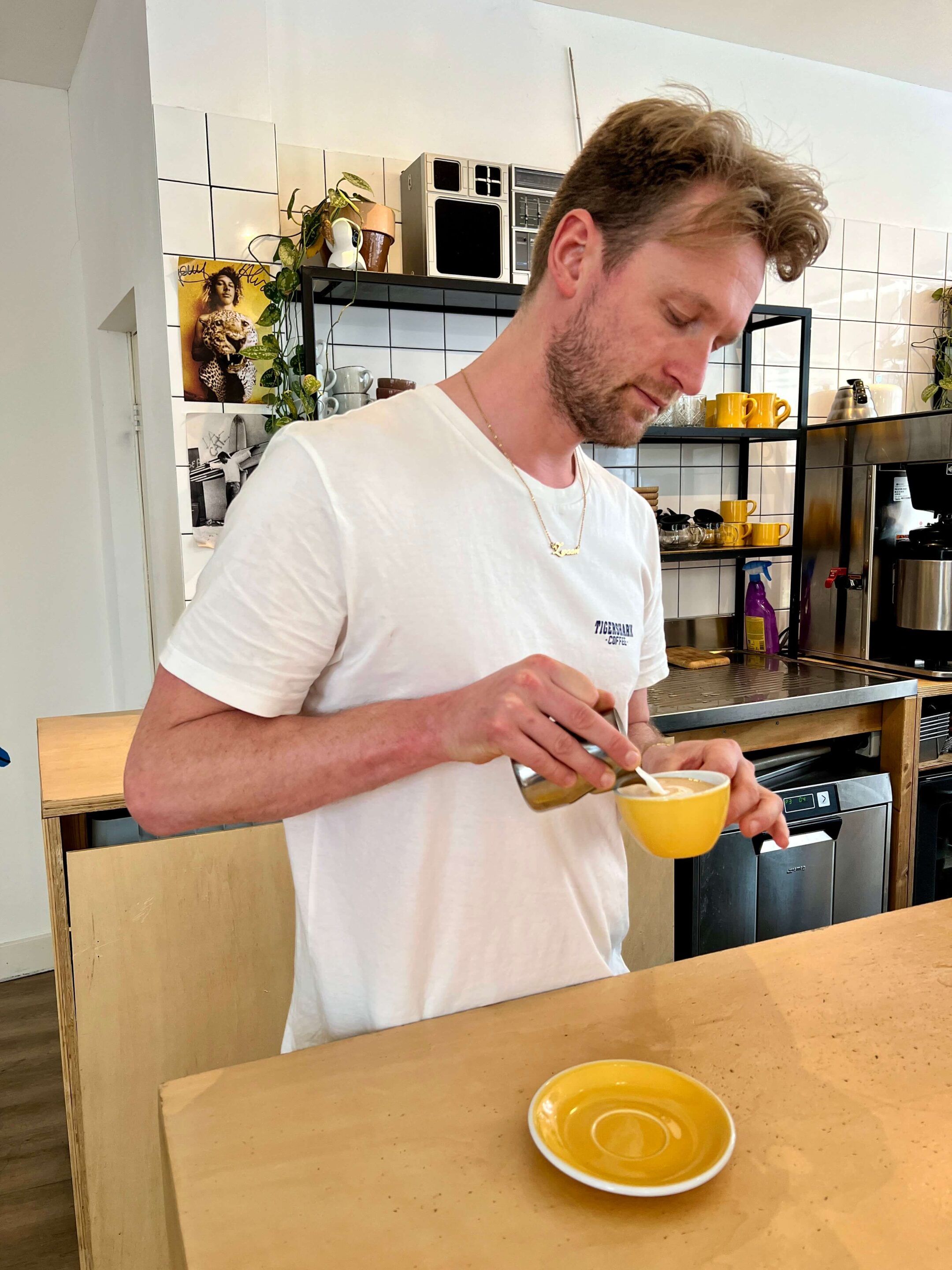 Tigershark is a multiroaster café that works with various Dutch coffee roasters including Shokunin and Manhattan from Rotterdam and White Label Coffee from Amsterdam. The walls feature large murals and framed artworks by Vinnie's old friend Ivo Janss who is also behind Friedhats' branding and mascots. Turns out Vinnie, Ivo and Lex (Wenneker) used to work together at the now defunct Coffee Company Korte Poten, which was long hailed as the best CC in the country. Unfortunately, it was also the least profitable.
Vinnie's warm persona and big smiles make everyone feel welcome. I actually, without wanting to sound sentimental, really missed the guy and as I sat there watching him interact with customers, including a slightly confused German gentleman who didn't understand the question 'oat milk or regular milk?', I realised that this café really is like Vinnie's living room. He later told me, he grew up around there and this familiarity with his surroundings and the people was glaringly obvious in a really positive way.
Vinnie's girlfriend bakes wonderful cakes and pastries such as pear and cardamom crumbles and vegan banana bread, and if the sun is shining on The Netherlands, Tigershark also has a lovely terrace where you can come hang out after catching some waves in the North Sea. Yes, Tigershark is definitely as close you can get to a Californian surfer café on these shores.
After some point, my colleague Bart came and joined me for a coffee and a catch up. He lives near The Hague and works remotely. Whenever we can, we meet somewhere in The Netherlands and I try to introduce him to new specialty coffee places; a great excuse for me to hit the road more often and visit places I should have visited long ago. Anyway, as we sat there sipping on our coffees, Vinnie dropped some Tom Cruise books on our table and winked at me. "I'm a big fan of this guy", he said. Typical for Vinnie to drop a bomb like. I just love that man.