One of the things I love the most about Oaxaca is that you can simply wander along the city's grid-like streets and lose yourself in the many neighbourhoods without ever truly being lost. This characteristic makes the city so incredibly liveable and alive because life happens on the streets, not inside cars.
The day I began my long journey back to Amsterdam, I walked a few blocks north of my hotel to visit a small coffee bar that many other baristas had recommended to me. Terno.
Founded by Celestino Alonso who is barely 21 years of age, this coffee bar is tucked away on a quiet street with gigantic trees, making it feel very zen. The interior is clean and tidy with stone floors, a concrete bar and just a few tables. If you didn't know it was a specialty coffee bar, you would be forgiven to walk past it and thinking nothing of it.
And yet, Celestino is a man on a mission whose original plan for life was thwarted by covid. He told me that he had received various offers to attend design colleges in Vancouver but due to the pandemic and the ensuing closure of the consular section at the Canadian embassy in Mexico City, he never got the visa he needed and thus couldn't accept the offers he had. A new plan had to be hatched.
Celestino confessed that he didn't even drink coffee before but he loved farming and somehow he ended up in contact with Enrique Lopez of Finca Chelin fame who also lives in Oaxaca. He introduced him to the world of specialty coffee by telling him: "We have the regular coffee that people drink and we have this tiny percentage called specialty coffee. If you're going to start drinking coffee, at least do it properly."
A few months after this first contact, Celestino opened his coffee bar and has since become a huge advocate for meaningful coffee growing projects around the country from where he sources his coffees. Terno offers a portal to this world of Mexican specialty coffee that is not getting the global recognition it deserves but it winning over more and more domestic consumers who grew up drinking terrible coffee.
Through Finca Chelin he met other coffee professionals from around the city including the team from Filemon who roast for a lot of local coffee bars, including Marito & Moglie and Kiyu Café. He now roasts together with Val who is the head roaster at Filemon although he admitted that he still had to keep the green coffee in his apartment and carry it to the roastery whenever he needed to roast more. "It's always a bit of a mission," he laughed.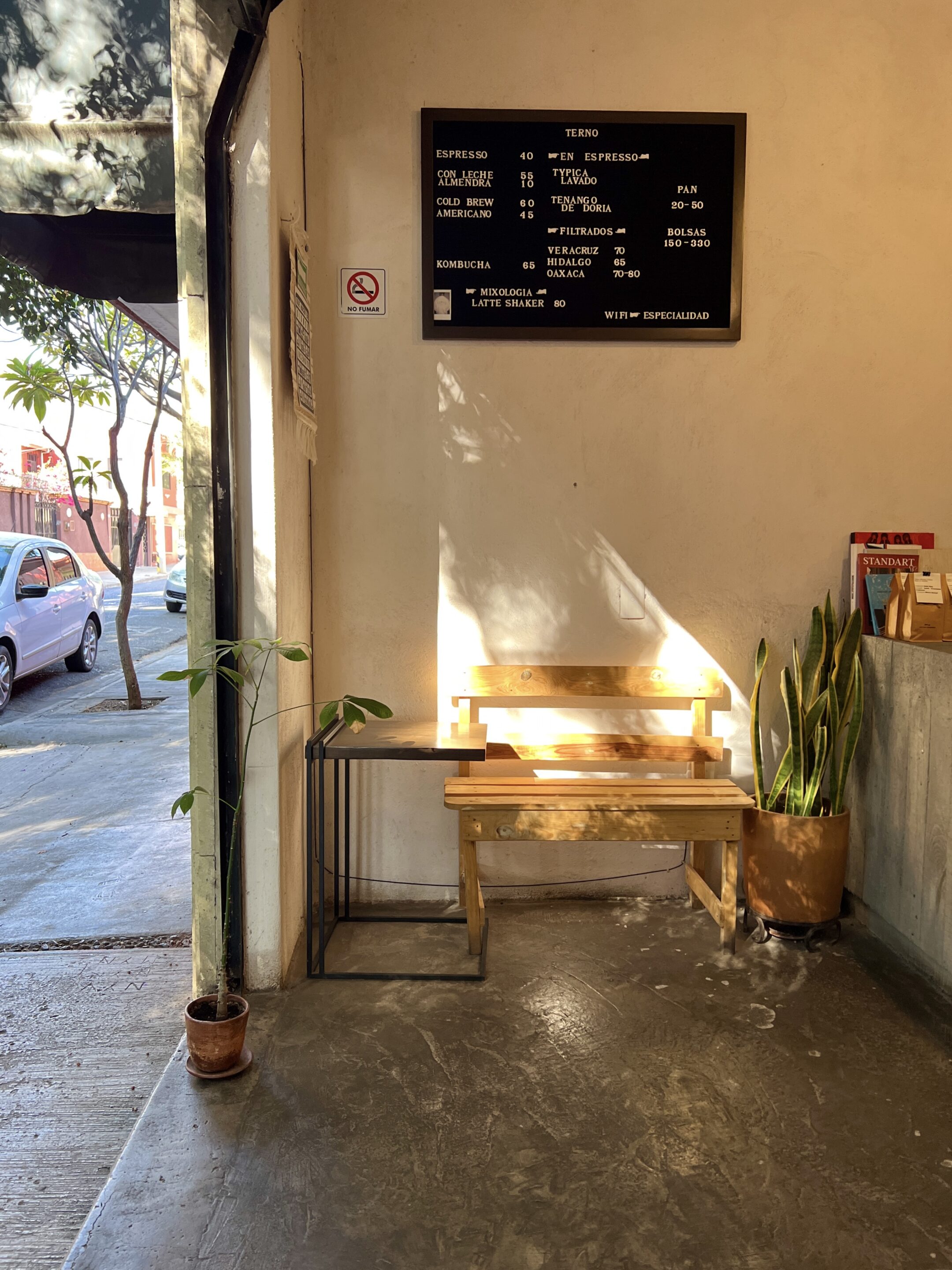 The most curious thing that happened during my stay, however, was that he prepared my first milk-based coffee using lactose free milk. At first, I was like 'no' but then he explained that Mexico's notoriously bad fresh milk means that you have very little choice. So you might as well consider all options and in his personal opinion, the lactose free option has the best qualities, considering the circumstances. Admittedly, I live in a place (Amsterdam) where I'm spoiled for fresh milk but it was actually not too bad.
I liked how he pays close attention to sharing all the details about each coffee that he choses so that his customers can fully understand what they're drinking. His no-frills set up ensures you're not distracted while drinking his coffees and that you can build rapport with someone who is incredibly driven and passionate.
After the milk-based drink, he also offered me a hand brew coffee, which came from a collective of female producers called Las Adelitas who are based in Hidalgo. He chooses his coffees wisely to represent Mexico as a whole, not just Oaxaca. While other cafés also offer food, Terno is really all about coffee with a few pastries thrown in for good measure. This means that it's a place for real coffee lovers who don't mind making a tiny detour away from Oaxaca's beautiful center to spend some time hanging out with Celestino. It's worth it!