One of my biggest priorities when I travel somewhere, is to find great breakfast places and ideally, ones that also serve specialty coffee. You'd be surprised to learn how hard it still is to find decent options in Amsterdam that do just that. Either they only have pastries or only serve coffee. But sometimes, you know, you want a full on serving of eggs, toast and then some, and I am definitely the kind of morning person who will go far for a great start to my day.
When I was in Athens recently, I stayed at a lovely Airbnb near the city center and on the first morning there, I decided to visit a coffee roaster whose flagship café is quite a way out in New Psychiko. In the end, it was just a 20 minute metro ride away but as you exit the station and pass some major Greek government ministries, you instantly feel a world a way from the touristy crowds around Monastiraki and the Acropolis. In fact,  as you arrive at Kudu Coffee Roasters, you might be forgiven for thinking that you accidentally found yourself in a Sydney or Miami suburb.
There is a big covered terrace overlooking the main street and a busy counter inside that was catering to a long queue of takeaway orders. I grabbed a seat at a table and the friendly waiter told me that breakfast was not served until 9:30 but that I could start with a coffee and a pastry. I mean, I was on holiday after all. Who's counting calories when everything looks so delicious?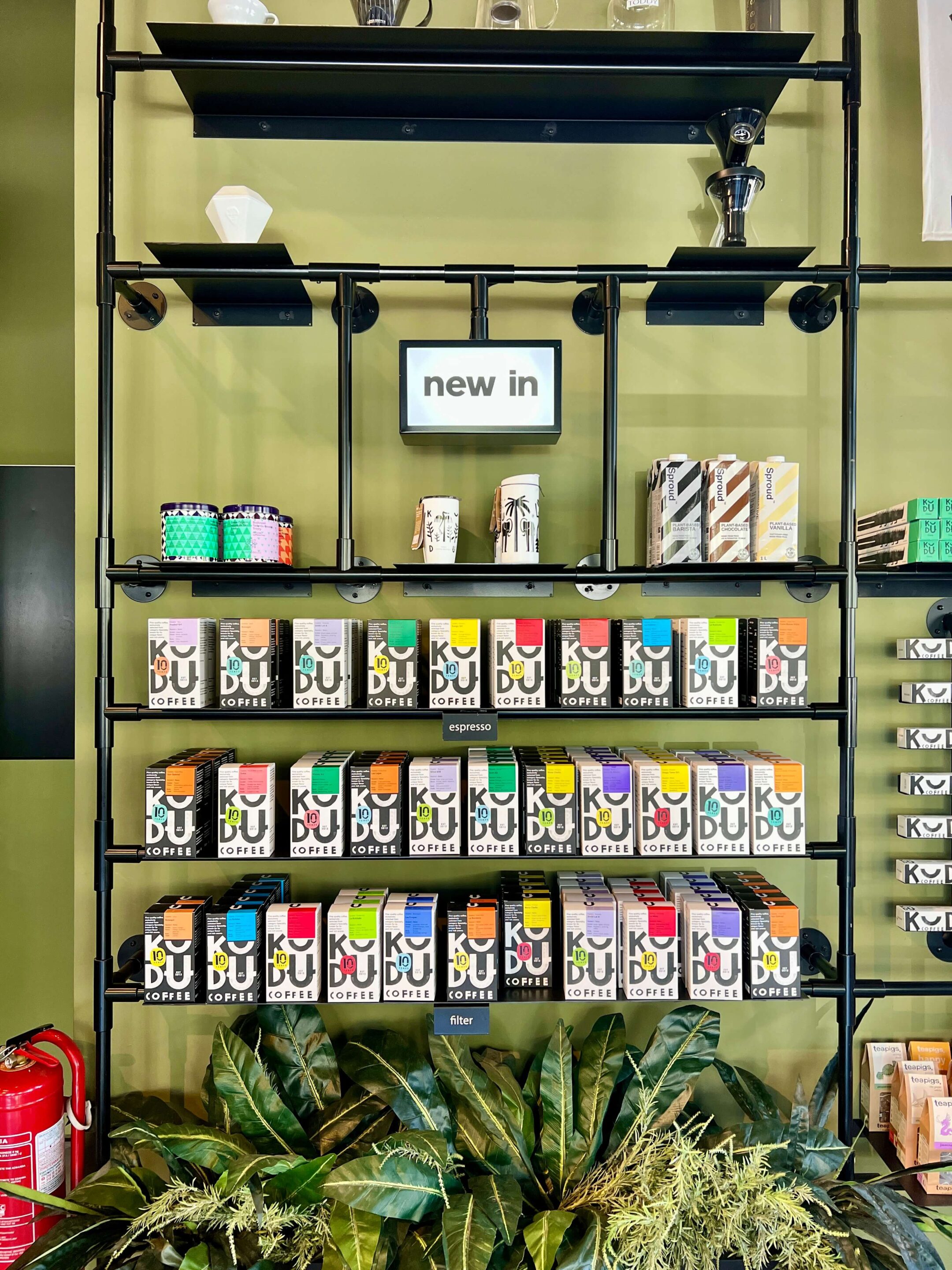 Kudu has been around for about ten years and with its colourful packaging and diverse range of coffees it definitely stands out. Co-founded by Nikolaos Ferras, the company aims to source top notch specialty coffees from trusted producers and roast them to bring out all the gorgeous floral and fruity notes. I started my day with a flat white and a rich cinnamon roll that was dripping with locally sourced honey.
As I sat there day dreaming, I was approached by a couple sitting at the table next door who turned out to be Andrew and Irene Connole, owners of famed Sydney-based sourdough bakery Sonoma. Andrew and Irene were spending some time in the city with their three kids before planning to move to London to set up a UK branch of their hugely successful company. This is what I came here for. Great coffee, great food and great connections.
Once the clock had passed the 9:30 mark, I followed my first course with a helping of eggs Benedict and a cup of a handbrewed natural Geisha from Colombia's Finca La Imaculada. The eggs were a bit too runny for my taste and the Holondaise could have been a bit thicker but the coffee was outstanding and served in beautiful ceramics.
The fact that there was such a huge outdoor area and a relatively little indoor area showed that life in Athens happens mostly out in the open. I love having my breakfast al fresco and soaking up the morning sun as I get my day off to a flying start. This visit to Kudu was absolutely worth the detour and if I had more time during this visit, I would have returned.